Cross-posted at the Political Fleshfeast.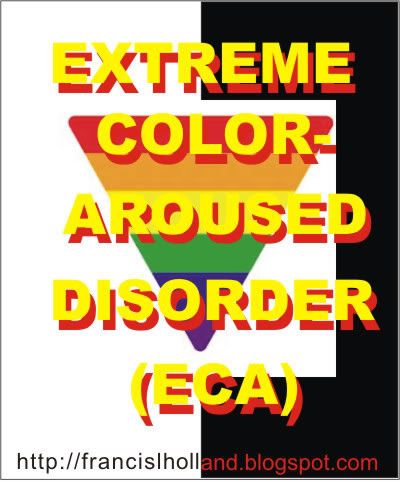 Someone asked me pointedly in comments at Political Fleshfeast whether whites or Blacks are more homophobic. I think I can offer some insight into this question by discussing my own family's historical experience, comparing our reaction to a bichromatic marriage to our reaction to having a gay family member.

My father's family was from South Carolina and my mother's family was from West Virginia, but their parents moved to New York, where my mother and father met, went to college, and married in New York, back in the 1940's.

When my mother got a job as the first Black city planner in New Bedford, Massachusetts, my family moved there and I was born there shortly later. Since my father's two sisters and his parents remained in New York, as did my mother's parents and her four brothers and sisters, my mother and father often took us back to New York, where all of our extended family played out the drama which I will now recount.
My mother had four siblings, include my Uncle Joe and my aunt "Bertha." Around the year 1969, my uncle Joe married a white Russian woman, named Anna, who eventually came to own a big Black dog named Bimm, (which isn't relevant.)

When Uncle Joe was dating white Anna four decades ago, and then was engaged to marry white Anna, and then married white Anna, there was tremendous angst and deep recriminations within my family at every step of the way. At every family gathering there were deep political discussions about this bichromatic marriage, my uncles marriage to Anna. Didn't he love and respect Black women? Why was he slapping them in the face? This was an outrage, but nothing could be done about it, because my uncle Joe loved my aunt Anna, and my aunt Anna loved my Uncle Joe. They lived together in Jamaica, New York, a ten minute walk from Flushing Meadow Park. Since nothing could be done to compel them to separate, my family eventually accepted Anna as a family member.
Members of my family had color-aroused ideation (a Black man shouldn't marry a white woman) and color-aroused emotion (initially anger, hurt, sadness, jealousy), as well as color-aroused behavior (rejection, criticism, arguing). But, due to the courage, determination and perseverance of my uncle Joe and his white wife Anna, and our family's drive to love and accept one another even when we do not agree with one another, our family eventually overcame these symptoms of color-aroused disorder and Aunt Anna was accepted as a member of our family.
Later, as a young adult, when I went to visit family in New York, I often visited my uncle Joe and his wife Anna, playing game after game of chess with my uncle while he and Anna sipped Scotch. We had long conversations, and they contributed money and uncle Joe drove me to the airport when I went to Chile at the age of 18. (A couple of years later, when I married a woman from Chile, Anna's enormous Russian dog Bimm tore the pocket off of my wife's winter coat.) Anna was a member of the family. I accepted her and so did everyone else eventually, like it or not.

Compare that, however, to the case of my cousin Dennis, whom I eventually learned was gay: Nobody told me Dennis was gay when I was a child. Much older than me, Dennis must have been at least twenty years old when I was seven years old. From the first time my twin brother and I visited him in Jamaica, NY, after he moved out of his mother's house, he lived with an older Black man, whose name I cannot remember now. My cousin Dennis and his housemate, "Jessie," slept in the same room, ate together, and maintained their household together. They obviously had a deeply interdependent and committed friendship. Everyone knew them and their living arrangement was treated as utterly unremarkable.

When my mother and father took me, my twin, and the rest of our siblings to family reunions in New York, there were seven us of traveling from Massachusetts to New York, so my twin brother and I slept at one relative's house while my sister and older brothers and parents slept with other relatives, depending on beds available and whom they wanted to see the most.

I remember quite well the time when my twin brother and I stayed at the house of my cousin Dennis and the man whom I now suspect must have been his lover. Dennis was very kind to us and his housemate was very kind as well. I do remember that the bacon they had in the refrigerator smelled terrible when we cook it, and we had to throw it away. Aside from that, our stay at their house was warm and pleasant, and I would happily have visited them again.

Everyone in my family loved my cousin Dennis. He went to college, got a responsible job, supported himself and -- in a family with considerable drama -- his life was the least remarkable, really, of anyone's.

Eventually, I learned that Dennis was gay and that he was dying of AIDS. I went and spent a couple of days at his house as did my mother and, surely many relatives. I remember my mother telling me that Dennis had AIDS with the same sadness she had in her voice when she told that my uncles wife was dying of cancer. The death of loved ones is inherently sad. But, Dennis had a very close relationship with his mother and he lived with her throughout the last days of his life.

Like most American families, my family has had its share of drama, but the fact that my cousin Dennis was gay actually never rated at all on the drama scale. But, my Uncle Joe's marriage to his white wife Anna (who was eventually accepted and loved by most everyone until he died of stroke and she of cancer many years later) was an event that engendered considerable and sustained debate in my family. Compared to that, if my cousin Dennis's homosexuality and the fact that he lived with a man were ever debated, I was never aware of it.

So, based on my personal experience, I would say that marrying a white woman is much more likely to engender intra-family strife than being gay, living with another man in a committed relationship, and eventually dying of AIDS.